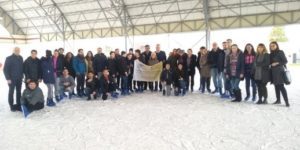 Skate-Ring for All is en Erasmus+ Youth project, co-funded by the European Union.The project promotes the participation of young people in sports activities that enable social integration, creating and strengthening personal, social and communicative skills.
The main activity was a youth exchange that took place in Skopje, Republic of North Macedonia, in January, 2020.
During the youth exchange there were included workshops, discussions, role-playing, debates and sports activities indoors and outdoors.
Here some pictures, during these activities: