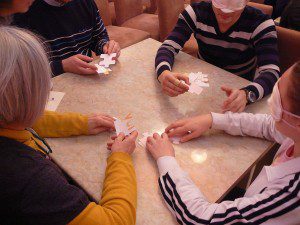 The project "Volunteering as a Tool for Inclusion" started in the fall of 2013. The partners from 8 EU countries, Romania, Latvia, Hungary, Italy, Denmark, Slovakia, Croatia and Ireland. Representing volunteer centers and organizations involving volunteers and developing resource efficiency through volunteer involvement. The overall objective of the project is to increase in the partner countries the social inclusion of disadvantaged or marginalized groups, through their involvement in volunteering, and to share experiences and good practices.
https://www.facebook.com/media/set/?set=a.1662902983922154.1073741834.1627290274150092&type=3
The project partners meet in each of the 8 countries discussing local cases involving as volunteers disabled or assisted people, determining them to change. During the meetings, each country's situation is analyzed and at the end of the project there will two documents released: a booklet with individual cases and projects and a guide for involving volunteers from disadvantaged categories. So far there have been such meetings in 5 countries.
Given the range of activities and experience Babilon Travel NGO developed regarding inclusion and work with visually impaired volunteers, the project coordinators invited our organization to host a study visit for the participants to the project. The visit took place on 12 March 2015 and gave the opportunity to our members and visually and non-visually impaired volunteers to share their experience gained in our local projects, Terra Mirabilis and Terra Cognita and also in our international projects focused in particular on inclusion, in which they took part.
The study visit ended with a game in which some of the participants, blindfolded, had to assemble a puzzle in a short time.