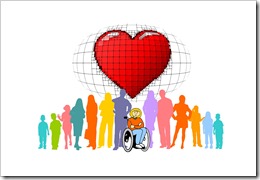 The third and last main activity of the Erasmus+ Youth project Building Skills Through Inclusion, financed by the European Union and coordinated by Asociatia Babilon Travel, is a youth exchange.
The aim of the project is to promote and foster social inclusion of young people with disabilities and fewer opportunities by being focused on mobility, independent living and employability.
To achieve its aim, the project will have three main activities: a partnership-building seminar, a training course and a youth exchange, with participation of 6 organisations and institutions from Albania, Kosovo, Portugal, Romania and Serbia.
The third main activity is a youth exchange in Cluj-Napoca, Romania, starting on March 24 and ending on March 30, 2019 (travel days included).
The youth exchange is addressing the needs of youngsters with and without fewer opportunities/disabilities. The activity will be attended by 30 young people and 5 youth leaders.
The selection of all participants is based on common application forms, motivation of young people. Each partner organization is responsible to identify and select participants by a set of common criteria:
For all participants:

Citizens or legal residents of Albania, Kosovo, Portugal, Romania or Serbia;

For the youngsters:

Age 18-30;

Actively involved in one of the partner organizations or in the local community;

Highly motivated to develop specific skills in the field of social inclusion;

Actively involved in all stages of the project and eager to disseminate its results;

Ready to attend all the activities of the youth exchange.

For the group leader:

Age 18+;

Active in one of the partner organizations;

Did participate to the training course in Albania;

Able to use English as working language.

For the accompanying person:

Age 18+;

Experienced in guiding disabled youngsters.

Able to use English as working language.
Participants will have the opportunity to contribute at any session of the youth exchange.
During the intercultural evenings, participants will be asked to bring and present pieces of their culture (music, food, dance, data, pictures, collages, etc.) in an inclusive way.
All project activities are based on non-formal education methods and tools (working groups, debriefings, free discussions, role plays, workshops, teambuilding exercises, games, energizers, reflections, study visits, presentations etc.), which encourage active participation of each participant in the sessions. The whole learning methodology will be adapted to the needs of all the participants and will be inclusive with regard of the disabled ones. Facilitators will choose those methods and tools, which involve equally and actively each participant.
The selection of participants, through an application form, is open until December 31, 2018.
The complete info pack for applicants can be downloaded from the link below:
[sdm_download id="3947″ fancy="0″ new_window="1″ color="green"]
Related articles: