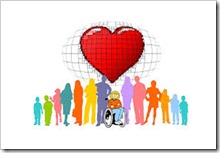 Babilon Travel NGO Romania is coordinating an Erasmus+ KA-1 project in field of youth.
The aim of the project is to promote and foster social inclusion of young people with disabilities and fewer opportunities by being focused on independent living and employability. 
The project has 3 main mobility activities:
1. A contact making seminar, August 2018 in Romania, meant to:
Strength the collaboration between partners and establish some common working models on inclusion of people with disabilities;

Develop capacities of youth workers about inclusion practices and how they can put such practices and involve people with disabilities in mobility projects in their daily work;

Develop a manual for youth workers how inclusion of people with disabilities is possible and how to motivate people with disabilities to be active citizens;

Share and learn for the experiences and practices of each other;

Prepare the next stages of the project;

Make future plans on inclusion.
2. A training course – Albania,  November 2018 that will:
Increase capacities of youth workers with and without disabilities how to contribute on independent living  and inclusion of people with disabilities and fewer opportunities, focus on some soft skills young people with disabilities should practice to improve their independent living, employability, accessibility  and inclusion;

Make a relevant assessment what are the main needs of people with disabilities and fewer opportunities though a more inclusive environment and independent living – mixing disables and non disables  can bring a more clear picture what we can do more on this category, from where to start and how to keep sustainable action;

Plan the youth exchange;

Increase the understanding of inclusion, non-formal learning, disability, EU values and principles;

Develop a manual how about employability skills for people with disabilities, the manual will be as a guiding material for people with disabilities and fewer opportunities to develop independent living skills and access easily the labor market.
3. Youth Exchange, Romania, March 2019 meant to:
Enhance mobility of young people with disabilities and without disabilities to go out their "bubbles", brake the barriers and change the perception and stereotypes of young people without disabilities about disables. Young people will be able to travel, meet new people;

Increase the information and knowledge of young people with disabilities how they can be successful on the labor market or which are the most needed skills on the independent living;

Learn participants how to advocate for legislation for PWD  by arranging meetings with people with disabilities or those working for PWD.
Methodology
Each project activity is based on non-formal education methods and tools (working groups, debriefings, free discussions, role plays, workshops, teambuilding exercises, games, energizers, reflections, study visits, presentations etc.), which encourage active participation of each participant in the sections. The whole learning methodology will be adapted to the needs of all the participants and will be inclusive with regard of the disabled participants. Trainers and facilitators will chose those methods and tools, which involve equally and actively each participant.
Intercultural evenings will be organized for each activity, where participants will be asked in advance to bring and present pieces of their culture (music, food, dance, data, pictures, collages, etc.).
Participants will have the opportunity to contribute at any section they prefer too, as well as to organize the "Laboratory of Insights", for which there will be 2 dedicated evenings, where participants will work together in smaller groups to present different non-formal activities they know and would like to share with others.
The project will start with a partnership building seminar held in Cluj-Napoca, Romania, between August 26 – September 1, 2018 (travel days included). For this seminar there is an info pack and an application form.
Related articles: