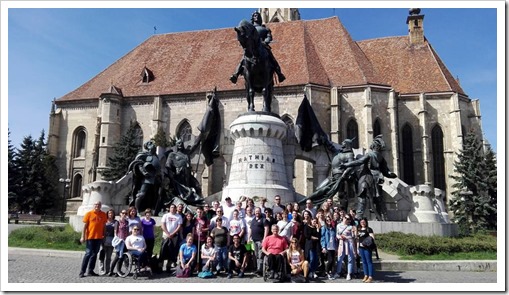 employABLE will bring together 40 disabled young people between 18 and 30 years old and their carers from Italy, Ireland, Poland, Romania and UK.
Disability negatively affects many areas of people's lives including lack of access to public transport, equipment, education, sport/health and in employment opportunities. Employment for many disabled young people is not aspirational with many employed in menial roles. Evidence shows that psychosocial well-being is critical to the development of self-esteem and the development of competences in education and employment. The vast experience of the project partners in using sport for empowerment provides the context for using the iconic nature of martial arts to provide psychosocial well-being through regular sessions of physical activity to engage and empower people with disabilities. Over the two-year life of the project, the partners will learn in an experiential way all of the skills and competences to create an inclusive celebration of martial arts for people with a disability. The project aims to empower disabled people by giving them a stronger sense of their identity, competences, strengths and value through the self-confidence gained through martial arts. We will increase the knowledge of different tools, technology, communication skills and ultimately the exploration of more aspirational career opportunities.
The context and objectives of the employABLE project revolve around the topics of inclusion, technology, communication, IT tools, social media, leadership, coaching and empowerment.
employABLE is an European collaboration with partners who work with disabled people and martial arts. Employability activities around improving work skills, competences and communications will empower young disabled people to see aspirational opportunities in the labour market. The project intends to show how disabled people can gain a better sense of their identity and value and thereby improve their competences and strengths whilst exploring technologies, communication, social media, leadership tools and additionally through the exploration of their hopes, dreams and aspirations. The tools will empower the participant by strengthening friendships and communities and changing self-perceptions of people from different cultural and, economic backgrounds.
The 24-month long project includes 10 main activities: 5 youth exchanges and before each youth exchange an advance planning visit. The final meeting in Dublin, Ireland, end of 2019, will create the opportunity for participants to attend a martial art festival, dedicated equally to disabled and non-disabled people.
The first youth exchange took place in Cluj-Napoca, between April 11-18, 2018.
Some moments from the "Dream Job" workshop, held on day 2 of the youth exchange in Cluj-Napoca.
The youth exchange in Cluj-Napoca had a very good media coverage, not only on local level, but also on national level:
Click here to see the final report of the youth exchange.
Project coordinator:
Ikkaido Iclusive Martial Arts – Ireland.
Project partners:
Abici – Italy;
Asociația Babilon Travel – Romania;
Ikkaido LTD – UK
Raido – Poland.
Related articles: